With the QuoteValet Shopping Cart, build and use online order forms to automate customer re-orders and receive paid orders from promotional e-mail blasts!
Overview
The QuoteValet Shopping Cart is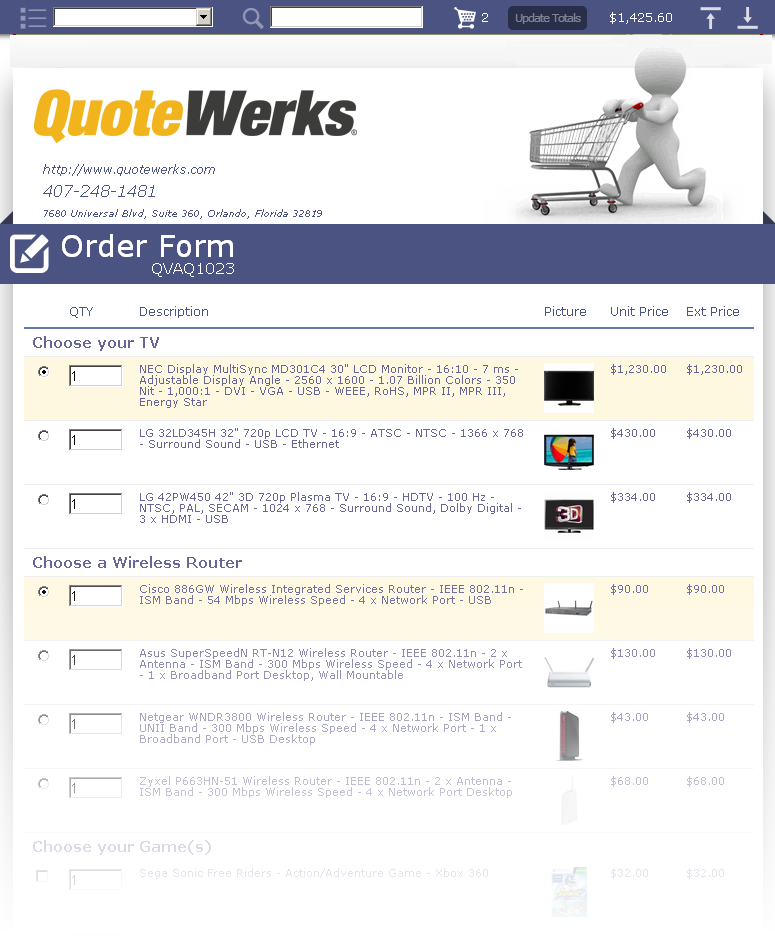 included in your QuoteValet subscription at no extra charge, and is easy to set up and use!
Simply:
Save/upload an order form.
Copy the Shopping Cart URL.
E-mail the Shopping Cart URL to your customer, or include it in your promotional e-mail blast.
Orders will appear on your QuoteValet Dashboard. Get used to coming into work each morning to an inbox full of paid orders from your QuoteValet Shopping Cart.
Benefits
The QuoteValet Shopping Cart has many great uses, but here are our top three:
Customer Re-Order Portal

Do customers routinely order consumable, low-dollar items that you don't make much money on? The QuoteValet Shopping Cart automates this process! Simply set up a Shopping Cart order-form template that contains all the items your customer typically orders, then give them the QuoteValet Shopping Cart website URL to visit whenever they need to order these items. From that point on, orders will appear in your QuoteValet inbox – no more phone calls and e-mails trying to identify the correct items to reorder!

Special Offer Promotions

On an Order Form, you can add and set an expiration date for a limited-time, special-offer discount on an item (an HP Server, for example). Send an e-mail blast to your customers, pointing them to this Order Form. Soon you'll have orders waiting for you on your QuoteValet Dashboard from those interested in the offer!

Website Shopping Cart

In addition to having micro-sites or portals for specific customers, if you want to have anonymous people browse a selection of products, you can use the shopping cart in that way to. That way if people come across your site, they can order those items from you. This enables you to create an online presence with a subset of the products that you sell.